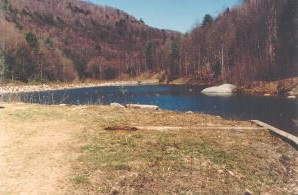 Paddy's Run off stream Reservoir designed and constructed 1975
Kerry A. Uhler & Associates, Inc. is a multi-disciplined Civil and Environmental Engineering and Surveying company located in the heart of Central Pennsylvania. Founded in 1972 by Kerry A. Uhler, Sr. PE, PLS with the goal of providing high quality, comprehensive and cost effective engineering and surveying solutions to their clients, both municipal and private, the staff of Kerry A. Uhler & Associates has gained a great deal of experience with which to serve your needs.
Throughout the years, Kerry A. Uhler & Associates has maintained a small but knowledgeable and experienced staff of professionals to meet then needs of municipalities, businesses, and individual clients alike. Weather your needs are that of residential or commercial surveying (ALTA Surveys), land development, storm water management, construction stakeout, construction inspection or water and sewer system design and maintenance, or any of a multitude of related surveying or engineering services, Kerry A. Uhler & Associates can meet your needs and expectations.
Kerry A. Uhler & Associates has extensive experience working with many regulatory agencies such as County Planning Commissions and Conservation districts, the Pennsylvania Department of Environmental Protection, Pennsylvania Department of Transportation, and the U. S. Army Corps of Engineers. Through this experience, our staff has developed a working relationship with these agencies which promotes efficient processing of permits and applications.
While Kerry A. Uhler & Associates has maintained a small staff, we partner with a small group of select individuals and firms providing specialized services when the need arises for work better suited for the talents and expertise of these professionals. Whether your project includes wetland delineations or complex structural designs, Kerry A. Uhler & Associates can provide a complete project from start to finish.
Finally, in some cases, our clients desire a turnkey project, including all aspects from conceptual design, through permitting, construction and startup. In these cases, Kerry A. Uhler & Associates has the ability to partner with a short list of select contractors to provide innovative and cost effective design-build solutions.